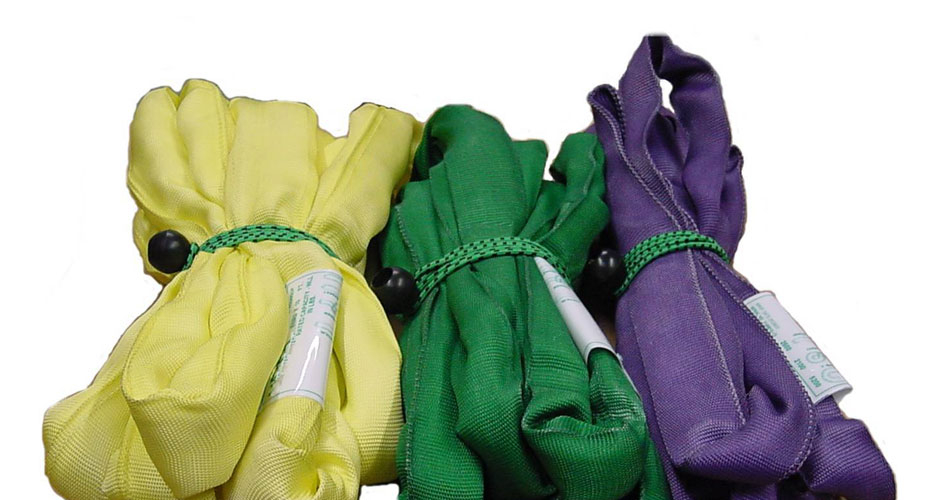 ---
Polyester Round Sling
---
Lifting Tool ✻ Sold in packages of 6
---
Polyester Round Slings are endless loops available in approximate diameters of 5/8" Regular Duty , 7/8" Heavy Duty, 1-1/8" Extra Heavy Duty. The available lengths are 4 feet through 20+ feet. Polyester Round Slings are the most durable Lifting Slings. The Soft Moveable Polyester Cover slides to provide many different wear points on your slings. The weight bearing inside fibers are protected for a longer lasting sling. Polyester is a more abrasion resistant material than nylon. Please contact us for any special orders or private labeling.
Key Benefits
Polyester Exceeds the Durability of  Nylon.
Soft Moveable Polyester Cover Slides  to Provide More Wear Points.
Color Coded for Easy Identification.
| SKU | Approx. Diameter | Vertical | Choker | Basket | Color |
| --- | --- | --- | --- | --- | --- |
| AGPRS58 | 5/8" | 2,100 lbs | 2,600 lbs | 5,200 lbs | Purple |
| AGPRS78 | 7/8" | 4,200 lbs | 5,300 lbs | 10,600 lbs | Green |
| AGPRS118 | 1 1/8" | 6,700 lbs | 8,400 lbs | 16,800 lbs | Yellow |